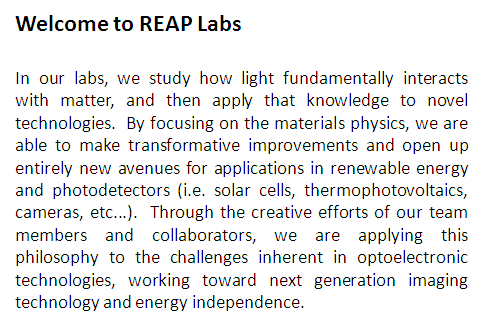 REAP NEWS
December 2015 - Nicole wins Graduate Student Research Competition.

September 2015 - Nicole and Maggie present at EUPVSEC in Hamburg, Germany.

September 2015 - Nicole successfully defends Master's thesis.

August 6, 2015: DeMeo Wins IC Postdoc Fellowship Dante DeMeo, E08, EG13, has received an Intelligence Community postdoctoral research fellowship from Oak Ridge Institute for Science and Education (ORISE) managed by the U.S. Department of Energy for Oak Ridge Associated Universities (ORAU). Dante and advisor Associate Professor Tom Vandervelde will act as Dante's research advisor in the Renewable Energy and Applied Photonics (REAP) Lab.

June 19, 2015: Corey Shemelya wins Joseph Noonan Outstanding Doctoral Research Prize Corey Shemelya, EG13, has been selected as the 2015 recipient of the Joseph Noonan Doctoral Research Prize. The prize recognizes outstanding research contributions made during doctoral studies in the department of electrical and computer engineering at Tufts University in the past three years. Corey is currently an Intelligence Community Fellow and Research Assistant professor at the University of Texas at El Paso.

June 16, 2015: Vandervelde Wins $2M in Green Energy Grants In 2014, Associate Professor Tom Vandervelde received a $1.5M Major Research Instrumentation grant from the National Science Foundation to build a multi-chamber molecular beam epitaxy (MBE) system to generate advanced semiconductors. He recently received $1M over four years from the Office of Naval Research for his proposal entitled "Epitaxial Growth of Semiconductor-Semimetal Towards Rectifying Diodes for Energy Harvesting and Indirect Solar Thermal Energy Conversion". He received an additional $600K from the Air Force Office of Scientific Research (AFOSR) to fund research in producing Group-IV SiGeSn photonic materials. Vandervelde also received a $620K Defense University Research Instrumentation Program (DURIP) award which to support his VG90 MBE renovations associated with his photonic material research.

May 22, 2015: Vandervelde Wins Tufts Collaborates Grant Associate Professor Tom Vandervelde and Assistant Professor James Adler (Mathematics), received a grant from the Tufts Collaborates program for their proposal "Unlocking the Mystery of Ultra-Efficient Solar Cells."

May 6, 2015: Licht named STEM Chateaubriand Fellow Doctoral candidate Abigail Licht, ECE, was named a 2015-2016 STEM Chateaubriand Fellow. The Chateaubriand Fellowship is a grant offered by the Embassy of France in the United States. Every year, it allows doctoral students enrolled in American universities to conduct research in France for 4 to 9 months. Congratulations, Abigail!

April 9, 2015: Stevens Named NASA Space Technology Research Fellow Maggie Stevens, a doctoral student in Associate Professor Tom Vandervelde's REAP Lab, received funding from NASA for her proposal "Solid State Energy Conversion for Deep Space Power." NASA Space Technology Research Fellowships are awarded to graduate students who show significant potential to contribute to NASA's goal of creating innovative new space technologies for the United States' science, exploration and economic future. Congratulations, Maggie!

April 2015 - Nicole wins SOE Outstanding Graduate Student Contributor to Engineering Education

March 25, 2015: Graduate student Nicole Pfiester-Latham was selected to receive the 2015 School of Engineering, Outstanding Graduate Contributor to Engineering Education Award. The award recognizes Pfiester-Latham for her significant contributions to the education programs of the department. Nicole received the award at the 17th annual Graduate Student Awards ceremony held April 24, 4-6 p.m. in Distler Performance Hall.

March 5, 2015: Graduate student Maggie Stevens and undergraduate Katie Levinson in Associate Professor Tom Vandervelde's REAP Lab presented papers at the American Physical Society meeting, March 2-6, 2015 in San Antonio, Texas. Maggie presented a paper on "Studying Anomalous Open-Circuit Voltage Drop-Out in Concentrated Photovoltaics Using Computational Numerical Analysis." Katie presented a paper on "Emission Testing Results of Thermally Stable, Metamaterial, Selective-Emitters for Thermophotovoltaics."

February 22, 2015: Stevens Named NREIP Scholar Maggie Stevens, a doctoral student in Associate Professor Tom Vandervelde's REAP Lab, received funding to spend the summer working at the Naval Research Labs through the prestigious Naval Research Enterprise Internship Program. She will be working with the Robert Walters group at NRL on epitaxial processes and characterization. Congratulations, Maggie!